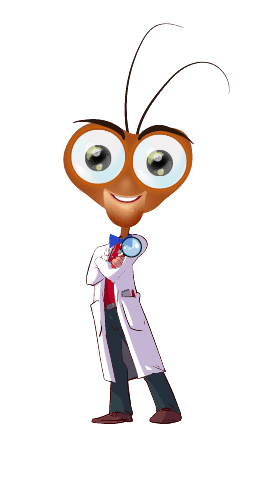 Your Trust In The Doc Matters Most: With over 24 years of combined experience our professionals know what it takes to get rid of pests in your home. Our time, effort, knowledge and experience is what separates Dr. Pest from the rest. There is nothing short of value and quality when it comes to Dr. Pest treating your home. As the Doc says: "The Doc Is In And The Pests Are Out!"

How We Integrate IPM and Pest Control
Controlling pests in your home isn't always about drenching a bug with chemical. In fact, it's not necessary. Our pest control approach focuses on smart solutions to identify and eliminate key areas in which pests thrive through a process called (IPM) Integrated Pest Management. We use a set of strategies to identify, prevent, control and monitor a targeted pest population. This approach is not only safer for the environment, but provides a more effective solution that guarantees the best results for your home. 
A Dr. Pest Specialist will conduct a free pest inspection of your home. After the evaluation process we will go over the findings and customize a pest control plan catered to your home.
Your specialist will identify and eliminate any conducive conditions that may be leading to increased pest activity. Preventing further conditions associated with a pest significantly reduces and weakens the targeted pest population.
Once we eliminate the conducive conditions we implement the control phase. This phase includes traps, monitors, materials, and certain products if needed. The control methods will be monitored throughout the year by your pest specialist to ensure the appropriate treatment methods are being put into place. 
Weather patterns change constantly throughout the year. This has a drastic effect on the environment and conditions surrounding your home where pests live. It's important your pest specialist monitors these conditions and pest activity throughout the year to ensure consistent results. 
Why Choose Dr. Pest Solutions
We're passionate about helping people just like you get rid of unwanted pest problems. As such, we are proud to be the only pest control company in Atlanta promising excellence in value, service, and trust.
Frequently Asked Questions
Absolutely. Pest control is not all-about spraying chemicals. We focus on a highly effective (IPM) Integrated Pest Management process that ensures long-term results for your home. The concept of controlling pests is understanding their biological makeup and the environment in which they thrive.  This allows us to control the population in a manner that provides less pesticides and less risk to our customers and their home.  Pesticides are limited to designated areas in our treatment process, and used only when needed. 
It really depends on the home and the surrounding environment. There are many factors our professionals take into consideration when picking the right plan and course of action for your home. We offer One-time, Monthly, Bi-Monthly, and Quarterly services. That being said, the service frequency we tend to see the best results with, and recommend for residential homes is the "Bi-Monthly Service". The frequency can always be adjusted. A Dr. Pest Specialist will point you in the right direction.
Let's be honest, pest control is considered an "Essential Needs" Industry. Why, because pests aren't going anywhere. Every home is going to have them year-round. It depends on what you feel is a "good" investment, right? Ask yourself,  Would you rather invest in a company that only provides a "service", or a company that provides an "experience with a solution"? Big difference. Value and quality matter, not only that, but a company that has your best interest as a customer. That's what separates Dr. Pest Solutions from the rest. 
25% OFF Your Initial Pest Treatment!
First time doing business with Dr. Pest Solutions? Get 25% OFF your initial pest control treatment!
Get Your Estimate
Schedule a call with a
Dr. Pest Solutions
★★★★★
"I am so pleased having asked Erik questions, getting detailed information on the subject. This company is very responsive and knowledgeable. I would definitely recommend this company!"
- Michelle F.
★★★★★
"The guys did a fantastic job resolving on ongoing pest issue we were having. They were very thorough with their remediation efforts and worked late into the weekend evening to address an ongoing issue. I can't recommend these guys enough."
- Jason W.
★★★★★
"Shane and Erik do excellent work. They know what they're doing, are very thorough, and are very personable, explaining exactly what is needed and what caused the issues in the first place. Plus they are reliable and reasonable. They have done pest control for me as well as crawl space encapsulation. I highly recommend them!"
- Terri S.